My current photographic project —  http://chazimages.com/current-projects.php — is putting more meat on the bones of my Automotive Art Forms  http://chazimages.com/sculpture.php.  These classic cars are beautiful to look at, but they also all have interesting and unique histories.  That entails more research on new entries and sharing of that history along with the images.
So, just the other day, I was working in the garage when one of the neighborhood walkers stopped to chat.  I knew he was a kindred spirit when he identified as a Corvette Stingray the shrouded shape in the shadows of my garage.  He further validated his credentials when he listed some of his former rides (my favorite, a Fiat 500!)  My current neighborhood has not seemed as "car aware" as my last.  Cars here seem to be more like appliances or status symbols; where as, back in the old neighborhood a lot of the Saturday afternoon socializing revolved around cars and garages.   But now, a ray of hope!  I  don't know if I will ever find a garage buddy to share beers and wrenches again (unless Peter Egan moves into the neighborhood), but at least I know there is "car talk" to be had.
Ray (the neighbor walker) was full of information about local car shows and other interesting automotive resources.  And most remarkably and coincidentally, he is the source of the "Hudson of Coincidence".  He sent me a link to a You Tube automotive subculture http://www.youtube.com/watch?v=FB6apYb5mJI&feature=email , "TheOriginalWheelsTV.  Chuck Derer, the producer, has recorded interviews with numerous car fans and made them available on You Tube.  They are at least as interesting as those by Jay Leno on Jay Leno's Garage, but without the annoying lead in commercials.
The "Hudson of Coincidence" occurred when I viewed the You Tube clip on the Hudson Italia.  What an interesting, unique, and rare car.  And it so happens that I was at the time struggling with an image from an AACA (Antique Automobile Club of America) show of a couple of years ago.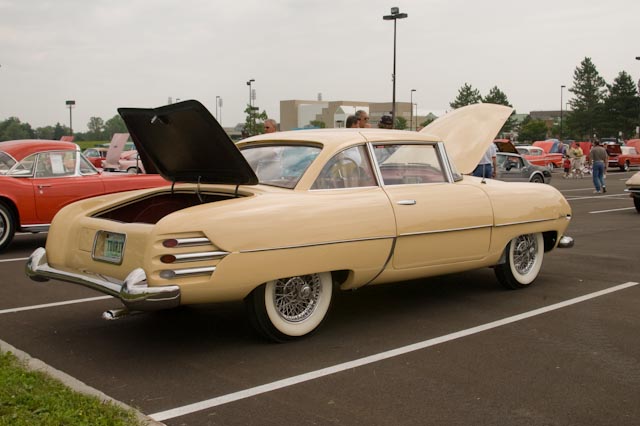 Wouldn't yah know it, it's a Hudson Italia.  True to the You Tube clip, it's in the original, and only factory color, Cream.  This is a very rare car; only 26 were built, and only 5 are known to exist today.  Luck would have it that I now have seen 2 of the 5.  There you have it; a lucky conversation, a fellow enthusiast, a cool new link, progress on my Automotive Art Form histories.